The Hiking Club easy day hikes for beginners

10 Plus Essentials
(things you should have on every trip)
---
Water and extra water
Flashlight and extra batteries
Lighter, Matches, Firestarter
Rain gear
Extra Food
Ski-Toque and maybe a Sun-Hat
Large Garbage Bag
First Aid Kit and How to use it.
Space/Emergency Blanket
Sunscreen and Sunglasses
Insect Repellant
Compass
Tarp + Rope
Closed Cell Foam sleeping pad
Map
Tupperware case
Day pack
---
1.Water and extra water
Fill an old 2 liter pop bottle if you have to, especially during the summer. Avoid soda pop like Coke, Pepsi, that contains caffeine. Caffeine is a diaretic - meaning it will dehydrate you and thus defeat the purpose of drinking. Stick to water, or juice, or maybe a sports drink. If it's warm weather, add some ice cubes.
Also, drink BEFORE you start hiking. In the car while driving to the trail slowly drink. Also, try to have some water left in the car when you finish hiking.
Do not underestimate the amount of water you will need to drink. During a summer hike in June, July or August you should bring 2-3 liters at least.
---
2. Flashlight and extra batteries
A flashlight is a lifesaver. If you are delayed a flashlight can help prevent you from triping and injuring yourself, or prevent your death by helping you avoid a steep cliff that would be invisible in the dark.
Extra batteries are just as important as the flashlight itself. In practice, a flashlight will usually only last about 3 to 4 hours. This is because batteries slowly lose their charge just sitting in a flashlight even when it is not turned on. A flashlight should always have batteries in it so you can use it quickly, but you must have extra batteries as well.
A more expensive option is a HEADLAMP. They permit you to hold your flashlight hands free. Also, some of the LED versions last longer than standard flashlights. Even though a Headlamp is preferable, a working flashlight with extra batteries is still worth about 90% of what a headlamp is worth. To start with, save some money and spend it on a flashlight and extra batteries first. Save the headlamp for later.
---
3.Lighter, Matches, Firestarter
A lighter can out last a box/book of matches. BUT also bring matches as a backup for the lighter.
VERY IMPORTANT, do not be mislead into believing that you will be able to rub two sticks together to start a fire.
Also, DO NOT be mislead into believing that you will be able to find some dry wood.
DO NOT be mislead into believing that you will be able to use a knife to cut some small dry pieces to start a fire.
You will be hiking in a RAIN FOREST. It can be almost impossible to start a fire in a rain forest. Everything is WET WET WET at certain times of the year. An emergency situation is when/where you DO NOT want to have trouble starting a fire. A fire can keep you warm and it's smoke can act as a signal for people searching for you.
Always carry a firestarter, either a tube of 'firestarter', or small cubes of fire starter materaial that is garanteed to work.
(but also remember, that depending of the weather conditions the forest could be dry enough that a spark could burn down the whole forest with you with it)
A better strategy is to wear the right clothing, bring shelter, and try to avoid a situation where you would need to rely on a fire to keep warm.
---
4. Rain gear
Which can keep you dry from the rain. It also can keep you warm as an extra layer to put on top of your clothes.
---
5. Extra Food
You are better off carrying a bit more than you need. It is always good to have some extra 'fuel' in case of an emergency.
---
6. Hat Sun-hat, ski toque
A ski toque is the easiest thing you can wear to keep yourself warm. You lose more heat through your head than any other part of your body. Also, depending on the weather, a sun hat can save you from dehydration, sunburn, and insects. Always carry the toque. Bring a Sun hat if the weather is warm.
---
7. Large Garbage Bag
Preferably bright orange. You can use it to signal with in case of an emergency, and it can be used as a shelter/rain gear to stay dry and keep warm.
---
8. First Aid Kit and How to use it.
Learn some basic first aid at the very least. Then either buy a pre-packaged first aid kit or put one together yourself.
---
9. Space/Emergency Blanket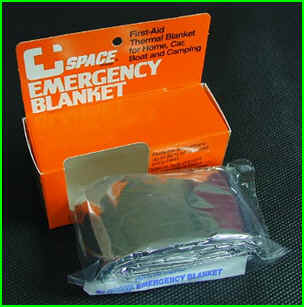 These thin tarps of reflective material are light, inexpensive, and extremely useful. They can protect against the wind, keep you dry, and also reflect heat back towards your body when you are curled up inside of one.
---
10. Sunscreen and Sunglasses
Protect your skin against a sunburn and future skin cancer. Use a sunscreen. The rating is a 'fraction measurement' of the amount of protection it provides. A 15 rating means you get 1/15th the amount of exposure to the sun than without it. A 30 rating means you get 1/30 of the amount of exposure to the sun than without it.
Sunglasses save your eyes against sun damage and future eye problems.
---
11.Insect Repellant
Deet works best, but it is also a very strong chemical. Health Canada has recently decreed that all new products containing Deet must not exceed apx 20%. However, don't be mislead by other 'natural' products. Only Deet has been proven to work as an insect repellant. Use it only when you have to. A few mosquito bits won't kill you.
---
12. Compass
People have gotten lost using a compass because they have forgotten to factor in the angle of declination for their location. If you don't know what 'angle of declination' means, find out first before buying a compass and being mislead by it.
---
13. Tarp + Rope
This provides shelter from wind and rain if your stuck outside.
---
14. Closed Cell Foam sleeping pad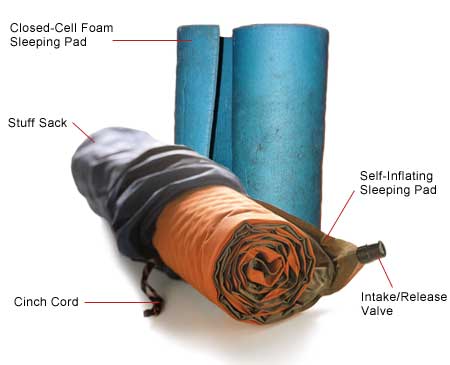 Not only does an insolite pad (a closed cell foam sleeping pad) come in handy when your eating your lunch and taking a break it is a life saver if you need to stay overnight. You loose 3/4 of your heat through the ground. An example is when you touch a piece of metal with your hand. The metal is at room temperature, but your hand feels cold when you touch it. This is because the metal is conducting heat away from your hand making the metal warmer and your hand colder. The same thing happens when you lie down on the ground. The ground conducts heat away from your body. An insolite pad prevents this and can help prevent hypothermia.

(do not buy an expensive self-inflating sleeping pad for day hiking. You are better off buying other equipment first. Only after a few overnight trips should you consider a self-inflating sleeping pad. Until then, stay away from them.)
---
15. Map
A map of the area you are hiking in and a ziplock bag to keep the map from disintegrating into mush if it gets wet.
---
16. Tupperware case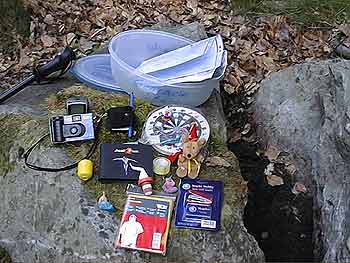 A Tupperware case will keep most of your emergency equipment, and that sandwich in your lunch, dry and prevent it from being squished in your pack. It also makes it easy to locate.
---
17. Day pack
To carry all this stuff in! Also, the larger the day pack the more comfortable it will be on your back. You need someplace to put your clothing when hiking up a trail so you don't sweat too much. Also, a day pack with a waist belt will be far more comfortable
---
Return to the Hiking Club EQUIPMENT page
Return to the Hiking Club MAIN page